Welcome To
Mt. Holly Springs
Our town is more than meets the eye by car, as you move from Carlisle, Boiling Springs, or Gettysburg and back. We offer a nice selection of affordable restaurants, ample opportunities in the borough or nearby to hike, stroll, or play, a beautiful and nationally recognized library, and a historic and renovated inn for overnight stays.
Important Info & Current Events
The Borough went through the Pennsylvania Municipal League and is now a certified sustainable silver community. Click here to read more.
Other important resident information:
June
Flag Day--June 14th
Father's Day--June 18th
Summer Begins--June 21st
Tichy Park Grand Opening
The Borough has completed the new playground at Tichy Park. The Park and Rec. Board would like to celebrate, on Saturday June 10, 2023 from noon to 4pm. We will have a dedication and Grand Opening for the local residents. Hamburgers and hotdogs, drinks, and snacks will be served.
Meeting Dates
Borough Council--June 12th 7:00 pm
Committee Meeting-- June 29th at 6:30pm
Meeting Dates
Park and Rec --June 20th 6:30 pm
Planning Commission--June 21st 7:00 pm
Authority--June 8th 5:00 pm
MHS Sesquicentennial and Booklet
The MHS Sesquicentennial Book Committee of MHS Parks & Rec is working on the Second Edition book commemorating the MHS Sesquicentennial. All First Edition Books have been distributed. Second Edition books are free (thanks to the generous donations we have received). Orders are being taken now and you can use the link above, for online ordering. Or you may stop by the Borough office or Amelia S Given Library for paper order forms. (Paper forms must be handed in at the library). Distribution for the Second Edition Books will take place Summer/Fall 2023.
The committee is also seeking photos of various locations desired to be included in the second edition. If you have any of the photos needed, and would like to share them for the second edition booklet, click on the photo link above for more information.
Our Sesquicentennial Books show the transformation of Mt.Holly Springs over the past 150 years, and certainly brings back memories for our residents.
Hometown Heroes Banner Program
Mt Holly Springs Guidelines for all Honorees: *Honorees must have been a resident of Mt Holly Springs * All Honorees must be in good standing * Veteren Forms: for all military branches *Non-Veteran Forms: Police, EMT, Firefighters, Fire Police, Local Government, other (if you feel your Honoree deserves a banner, please explain on the form. Example; someone who volunteered many hours to the library,etc.) *Sponsoring: If you would like to sponsor, please fill out a sponsor form, there is a section if you would like to be an anonymous sponsor *COST $275.00 *Please make all checks payable to Mt Holly Springs Borough. Send or drop off to the Borough Office at 200 Harman Street, Mt Holly Springs, PA 17065. ** ATTN: MHS Hero Program Any questions please contact: Tom Day Borough Manager at tday@mhsboro.com or 717-226-2066 Forms available below in Announcement section--A PHOTO MUST BE SUBMITTED WITH YOUR APPLICATION AND PAYMENT--The photo will be returned to the address provided on the application.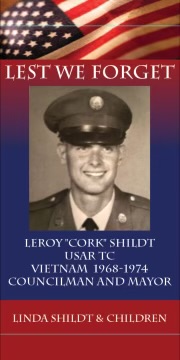 Banner Example
Here is an example of the Hometown Hero Banner that is available to be purchased.
Park & Recreation
47 Annual Holly Festival Day Information for Vendors Click below in Announcement section
Attention Residents
Cumberland County 2023 Household Waste Disposal Program Information. To access the link, click link above in Announcement section.
Mt. Holly Community Volleyball
All skills are welcome!

About us: This is a community pickup game where we welcome everyone interested in playing volleyball. Our main goals are teamwork, encouraging love of the game, and improving our skills in a positive, respectful environment. New and experienced players play alongside each other, each being challenged in different ways. The best part is having fun together. When: Games are every Tuesday, starting at 6:30 pm and finishing around 8:30 pm. To find locations of the games and for more information: Please feel free to contact Jonathan with any questions.

Email: jonboar@aol.com

Thanks and game on!